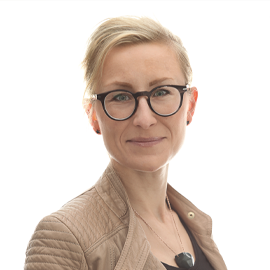 – A digital trade fair requires a different mindset. But it can also be very successful, says Katrin Hedvall, market area manager at AFRY (formerly ÅF).
For AFRY, exhibiting at Digital Scanautomatic and ProcessTeknik 5-6 October will be a new experience.
– We are still a bit unfamiliar with the format, so it will be a challenge. Of course, we would rather have had a physical event, but at the same time we believe that the interactive platform offered by the digital fair can be an important source of inspiration.
Katrin Hedvall believes that this places greater demands on good planning, both for exhibitors and visitors, in order to achieve good results.
– Unlike a regular trade fair, where visitors can walk around the stands for a whole day, the digital format requires greater focus.
– Visitors need to think through which companies they want to be matched up with and be clear about the issues. This means that we can get into the problems that need to be solved more quickly.
The responsibility for exhibitors is to be able to deliver answers to everyone.
– For us, it is of course important to think about this, and have the right people in place, ensuring that our experts can really answer all questions and concerns.
AFRY also intends to have some pre-recorded presentations on its digital stand, both promotional films and prepared seminars.
– Among other things, we are highlighting areas such as Food and Life Sciences, where we have a lot to offer and right now we are working a lot with the transformation of our industry to find solutions that enable us to meet the climate challenge.
AFRY is an international company in technology, design and consulting.
– We help our customers to develop in terms of sustainability and digitalisation. We are 16,000 dedicated experts in the fields of infrastructure, industry and energy, who work all over the world to create sustainable solutions, says Katrin.
We hope to get in touch with partners and customers at the digital fair.
– Not least, we want to work on upscaling companies with innovative products, which are coming onto the market. In this regard we can help make things happen. We are also good at turnkey solutions and can deliver entire factories.