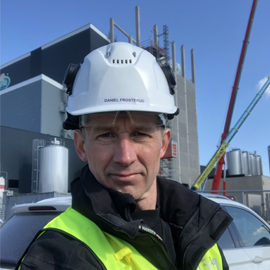 – It will be exciting to try something new! We see great opportunities and are very positive about Digital Scanautomatic and ProcessTeknik, says Daniel Frosterud, sales manager for GEA in Sweden.
GEA Group, headquartered in Germany and with more than 18,000 employees, is one of the truly large players focused on the food and beverage sector.
– ProcessTeknik is an important trade fair for us, where we often get spontaneous questions such as, "can you do this?" or, "do you have that?" Comments and questions we may not otherwise get from our contacts with customers, says Daniel Frosterud.
He sees a great advantage in this year's fair taking place in digital format:
– As visitors make an active choice in the matchmaking function, we know that they are motivated when they show up on our digital stand. This makes the meeting more focused, he says.
– It's a clear advantage compared to a physical fair where, as a visitor, you can happen to walk past a stand and miss what you are looking for. This is hardly likely to happen at a digital fair where visitors and exhibitors are well matched.
Daniel Frosterud is full of expectations for the fair this autumn:
– Our goal is to achieve the same level in the number of leads that we usually get at a regular trade fair. That would be fantastic.
Among other things, GEA intends to show recorded presentations on the stand, followed by live-streamed question and answer sessions. General sessions, which can turn into individual business discussions in digital break-out rooms.
– We obviously hope for many such meetings on issues we can delve into in depth, says Daniel.
At the fair, GEA will share its product news in food processes.
– An example is a spiral filter with vacuum extraction, intended for the production of juice and fruit juice on an industrial scale, but which can also be used for the production of vegetable proteins. The whole protein industry is very hot right now.
– We also have exciting new applications under way in the chemical industry, which aims to develop products in the bio-refinery and pulp industries, without being dependent on oil. An important initiative for a sustainable future.