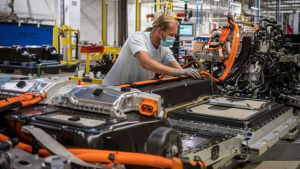 As early as 2025, Volvo Cars plans that half of its car sales will consist of electric cars, while the other half will be hybrid cars. A step towards achieving the goal of being climate neutral by 2040.
To succeed with this very extensive electrification, the company is investing heavily in developed production technology and its own installation of electric car batteries.
The automotive industry is developing at an explosive pace and electrification is a fact both within the industry itself and in society at large. Volvo Cars is one of the world's largest car manufacturers and is in a massive transitional phase from diesel and petrol-powered cars to electric ones. Anna Davidsson is responsible for Advanced Engineering and External Research in Production.
– Volvo Cars aims to give customers the freedom to travel sustainably and safely. We call this "Freedom to move in a personal, sustainable and safe way". We have big goals and are undergoing rapid change. In 2030, we will only sell fully electric cars. In parallel with this, we will be fully climate neutral in 2040 and our ambition is to reduce the impact on the environment with the help of line sales and direct contact with our customers, says Anna Davidsson.
Electrification began as early as 1976
But despite Volvo Cars' current major transition from diesel and petrol-powered cars, Volvo Cars is no newcomer to electrification. In fact, work on electrification in the company began as early as 1976, and some years ago Volvo Cars decided to build its own battery lab in order to be able to develop the right properties and set the right requirements for its battery suppliers. The batteries undergo complex tests to ensure durability and performance. In conjunction with each factory that manufactures electric cars, the battery components are assembled into finished batteries in a separate factory. It is also a matter of course for the company that the work carried out in this factory is circular. Ann Van Damme is a Technical Expert in Production and Electrified Vehicles and mainly works on projects related to the assembly of Volvo Cars' future battery and hybrid cars.
– The battery holder itself is made of aluminium, and we want 40% of that aluminium to be recycled. Some of the cobalt in the batteries has also been recycled. Right now we are developing the batteries so that in the end they will not contain any cobalt at all. Sustainability is always important. Climate change is the ultimate safety test, and our development begins and ends with the climate, says Ann Van Damme.
– In order to assemble the batteries efficiently and improve the impact on electrification on the factories, extensive studies are being carried out and Volvo Cars is also working closely with various universities and institutes.
50 different production-related projects
– Right now, Volvo Cars is working on about 50 different production-related projects, of which about 30 are taking place in collaboration with others. The effort to promote a circular and sustainable economy is huge. This is not only evident in Volvo Cars' electrification but also in its circular working within its own factories.
– We aim to cut our energy consumption by 30% by 2025. We will also reduce waste by 20% by maximising the use of materials. We plan to reduce water consumption by 15% in the various countries where we manufacture. We work closely with other players who are also developing new ways to make production more sustainable, including Northvolt and SSAB, says Anna Davidsson.
Volvo Cars' promise is impressive, and the proactive work is an important component in Volvo Cars' circular goals as well as its ambition radically to reduce carbon dioxide emissions and the resulting impact on the environment. And the change will happen quickly.
– There is one thing I know about the future – the pace of change will not diminish. Electric vehicles as a concept are not as mature as internal combustion engine vehicles. We must therefore be flexible and offer a wide variety of vehicles to meet all kinds of needs, Ann Van Damme concludes.
In order for development to progress, it is important to be constantly updated on industry news. The digital fair Scanautomatic & ProcessTeknik is an exciting meeting place for knowledge exchange.
---
Scanautomatic is the place to explore the automation and digitalisation of the industry of the future. Together with ProcessTeknik and Nordic Food Industry, Scanautomatic puts together a cross-industry event with three trade fairs under one roof. With the aim of increasing competence to confront common challenges we are focusing on three areas – sustainability, smart industry and energy. Scanautomatic takes place on 18-20 October 2022 at the Swedish Exhibition & Congress Centre in Gothenburg.