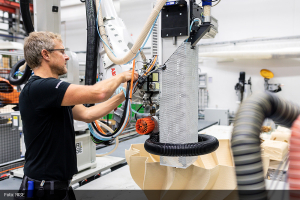 The future of automation and the digitalisation of industry is at the heart of Scanautomatic 2022. The aim of the fair is to drive the conversations and collaborations that can solve the challenges that industry must confront. We are facing an increasing pace of change, new business models, standards and ways of working. What does climate change demand of us? And how do we ensure efficient, sustainable and digital development?
Peter Bökmark and Magnus Widfeldt from RISE and Martin Friis from Produktion2030 work in their respective organisations to develop and improve industry, for example by making research available and bringing together different actors in new innovation projects.
– We are part of the Swedish innovation system and I see this as a prerequisite for helping industry. Throughout, I am passionate about ensuring that the research we do together with different universities and companies is processed, brought together and made easy to understand. And is of use to Swedish industry, says Peter Bökmark.
On the agenda for 2022
Peter, Magnus and Martin are all involved in Scanautomatic and provide valuable input in the process of developing the theatre programmes, among other things. Within their roles, they work extensively and closely on several projects that are highly relevant to the industry of the future.
– Within Produktion2030, which is a strategic innovation platform aiming to strengthen Swedish competitiveness, I work on initiating collaborations that create knowledge and transfer it to industry. A lot of knowledge is created all the time, but the real value comes when it is applied by industry. At Scanautomatic 2022, I envisage that we will talk a lot about effective collaboration to meet the challenge of the accelerating pace of change, says Martin Friis.
Industry is indeed facing a major challenge, as Martin says. But there are many forward-thinking initiatives and projects addressing it.
– When we do R&D and technology workshops, there's a challenge in understanding that what we thought was the way forward five years ago may not be today. We need to work differently to bring in things like automation and robotics. One example of such a successful project was  Robotlyftet. There we worked to promote automation and robotisation in small and medium-sized enterprises (SMEs). This is a segment which, because of its limited resources, does not always have the opportunity to reap the same benefits from new technology and digitalisation. However, they can make a big difference in the SME segment, so we need to spread this knowledge, says Magnus Widfeldt.
Digitalisation – a prerequisite for meeting sustainability goals
Sustainable solutions is one of Scanautomatic's main themes and, above all, one of the most discussed topics in industry right now. There are tough demands to ensure fossil-free production and reduced emissions, and to do it quickly.
– We are currently seeing global trends focusing on sustainability, whether social, economic or environmental. But at the same time, we see political conflicts and a pandemic that are putting a damper on the way we trade and produce. Then there is a big focus on digitalisation and automation as major trends. But here we have to understand that digitalisation is a prerequisite for sustainability. They go hand in hand, says Martin.
RISE and Production2030 are also involved in test bed projects. Industrial test beds create an opportunity to test new technologies, processes or materials. Researchers and companies work there together to find methods to apply in practice.
– At Scanautomatic, we will, among other things, talk about the applications centre for additive manufacturing that RISE is establishing, where we have had, and still have, several test bed projects with industry, institutes and academia within Produktion2030. Such collaborations have an impact because traditional manufacturing companies build alliances, bring in expertise and can translate the research into other areas, Magnus says.
– A large national test bed for electromobility is now also being created with Chalmers, RISE, the government and industry, to help keep Sweden at the forefront of e-mobility, Magnus adds.
They all fully agree that cooperation and alliances are of paramount importance to meet the changing environment in industry. And to do so, entrepreneurs need to be aware of the opportunities available.
– We need to lower the threshold for tapping into the innovation system that exists and encourage collaboration. Large companies can do their own research in-house, but SMEs don't always have the necessary capacity and we need to make their innovation journey easier, Peter concludes.
Peter, Magnus and Martin will all be at Scanautomatic 2022. Together with their colleagues and the Swedish Exhibition & Congress Centre, they are encouraging all companies to explore current and future innovation and collaboration opportunities. The seminar programme will be updated with booked speakers and case studies in the near future – so stay tuned!