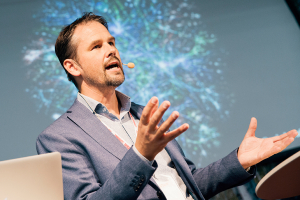 At Scanautomatic 2022, a new meeting place is making its debut – the Innovation Hub. The Innovation Hub consists of an exhibition area for startups. There is an opportunity for both large, small and medium-sized companies to meet and start a dialogue with start-up technology companies, and to gain insight into new solutions that enable the digitisation of the industry.
Ignite Sweden enables matchmaking on site
Also present is Ignite Sweden, an organisation that works to match startups with larger companies to increase their level of innovation. Since Ignite's start in 2017, they have matched over 980 startups with more than 250 large companies. In connection with Scanautomatic, Ignite holds a digital matchmaking focused on Scanautomatic's themes; Smart industry, Energy and electrification of industry and Sustainable solutions.
– Within the matchmaking we conduct in parallel with the fair and the Innovation Hub, we look at the problems, challenges, needs and prioritised technology areas that exist with the companies. Then we find startups within both our register and among those who participate in the Innovation Hub to find a match that can enable a solution, says Linn Sidahl, project manager at Ignite Sweden.
Ignite also offers a tour of the Innovation Hub for companies that want to. There you get the chance to listen to presentations by the startups on site.
– This is a unique opportunity to explore the startups that present at the Innovation Hub and to see opportunities to increase their technological height. The focus of the startups on site is solutions that digitise the industry and manufacturing processes, says Linn.
Ignite Sweden invites small and medium-sized manufacturing companies to lunch
During Scanautomatic Ignite Sweden invites small and medium-sized companies to a lunch to tell them more about matchmaking and innovation work.
– We want to share our best practice from Ignite and how to work to increase the degree of innovation in your business. Collaborating with knowledgeable and technology-driven startups is a very effective way to do that, Linn concludes.
For more information contact:  linn.sidahl@ignitesweden.org