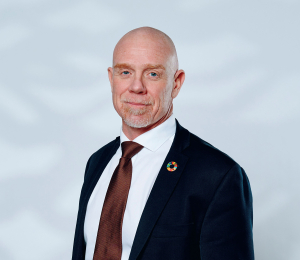 The debate over energy has never been so heated. Robert Andrén is the Director General of the Swedish Energy Agency, which means he has an important and exciting role at the moment. In October he will appear at Scanautomatic to launch the section of the programme entitled, Electrification of Industry and the Energy Transition.
The Swedish Energy Agency works to promote society's transition towards the creation of a sustainable energy system that is robust, fossil-free and competitive.
– The Swedish Energy Agency is one of the more exciting and important agencies to be in right now. Partly because of the energy and climate change transition that is under way, but also because of the major challenges we are facing, with the war in Ukraine. Our mission includes everything from promoting and supporting research, innovation and business development to consumer advice and providing analysis, forecasts and decision support to decision-makers in the private and public sectors, as well as acting as the coordinating emergency authority for the energy sector, Robert says.
Critical factors for a successful transition
To succeed in implementing a transformation of this magnitude, we need to shift our attitude towards it.
– For us, it is important to highlight that this energy transition brings unprecedented opportunities for Sweden as a nation. It is not a necessary evil or a painful process. Sweden has real opportunities to take a leadership position in the climate transition.
As mentioned, energy supply is a charged debate, which at the moment is mostly focused on the pros and cons of different types of power. The most burning issue is electricity prices.
– We are still stuck in yesterday's energy system, to the extent that we are dependent on fossil fuels, and this causes the high electricity prices we are seeing right now. We have to try to raise our vision and think about systemic solutions and see the whole picture. We need to find the long-term solutions to the problems we are facing, while of course we also need to deal with some short-term challenges here and now. But the debate needs to shift focus from the problems alone to the great opportunities that the transition brings.
"We must facilitate and promote industry's climate ambitions"
If the transition is to be possible, and above all if it is to be implemented effectively, joint efforts are needed from both industry and politics.
So far, large parts of industry have clearly demonstrated their commitment and ambition to climate change from a business perspective. Now politics needs to match industry's efforts.
– We see industry taking the lead in the green transition and now it is a question of how we help and support industry to make this possible. It is important that our policy makers at all levels facilitate and promote industry's climate ambitions through strategic decisions. We need to review laws, regulations and permit approval processes. The building of tomorrow's infrastructure and business models for a fossil-free welfare state is under way now and requires strategic and long-term investment from both industry and politicians, Robert concludes.
You can see Robert Andrén on the Scanautomatics stage on 18 October, where he will introduce the section on the agenda entitled, Electrification of Industry and the Energy Transition. Scanautomatic is the meeting place for the future of automation and the digitalisation of industry. From 18-20 October, the premises of the Swedish Exhibition & Congress Centre in Gothenburg will be filled with new ideas, innovations, collaborations and future solutions for sustainable industry.