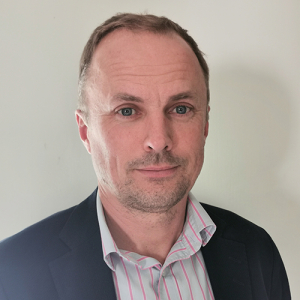 A collaboration between Roslagsvatten, Schneider Electric, AFRY and AVEVA Select Scandinavia is making the intelligent water system of the future possible. The project is part of Roslagsvatten's journey towards its Roslagsvatten 2.0 vision, which is about using digitalisation to meet the challenges we face and create a smarter and more sustainable society.
Daniel Ljungqvist has been working with automation, mainly in the water and wastewater sector, his whole professional life. Today he is a sales manager at Schneider Electric:
– We work to help companies digitalise their processes. On large-scale projects, such as this one, it's about helping clients to increase their control over the data they have and to create simpler, safer and more efficient workdays for those working on the plant.
Projects like this have an impact on those working in and around the wastewater facility as well as the wider community.
– The water industry is essential to society. We must have a clean and safe environment to live in. By digitalising this work, we create better conditions for energy efficiency and sustainability, while enabling more modern ways of working.
The water industry is a hugely important sector, and it carries a great social responsibility. For example, if there is a flood or a plant is involved in a breakdown, it has enormous consequences for society. But, with a smart digital system, businesses like Roslagsvatten will be able to see in advance if something needs maintenance and they can take preventive action.
– We can make it easier for businesses, through digital systems and tools, to work proactively with planning and maintenance. For example, when it comes to planning water reserves.
Projects at the forefront of digitalisation on show at Scanautomatic
The project consists of the AFRY Water Integration Platform, which is operated by AVEVA and to which Schneider Electric contributes the latest technology. The combination enables a world-class system and places Roslagsvatten at the forefront of digitalisation.
It is implemented by connecting the digital platform to Roslagsvatten's existing systems, ranging from financial and control systems to sensors out in the networks and maintenance systems. Something which then creates a new digital way of working, one that opens up everything from preventive maintenance to simulations and training.
On 19 October, you can see Daniel Ljungqvist from Schneider Electric, together with Robin Trankell from Roslagsvatten and Magnus Sjöström from AFRY on the Scanautomatic stage. There they will talk about Sweden's first autonomous water system.
Read about their session and more about what's happening at Scanautomatic 2022.