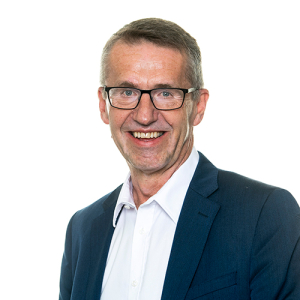 Never before has it been so important for the entire industry to join forces to enable the energy transition by applying existing technologies. Not only does the transition require the development of tomorrow's technologies, but it also highlights the importance of applying those that already exist.
"Mission to Zero" is the name of ABB's programme to work towards climate neutrality in buildings. Both for the company itself and for its customers. Sustainability is the backbone running through all of ABB's business. Lennart Carlsson is Sales Manager at ABB Sweden and explains how energy efficiency can be created when energy supply is linked to production.
– It's about linking energy supply with production. This is to be able to optimise it in terms of the supply and price of energy. With the help of energy management solutions, we can get a picture of what it looks like today and how we can manage energy in the future. In other words, we get the opportunity to find out how our processes can be run in the most energy-efficient way, says Lennart.
"We live as we learn"
ABB's proprietary technology is currently used in its own factories. This is done by applying energy management methods. The plants in Lüdenscheid, Germany, and Dalmine, Italy, are among the first to achieve climate-neutral status in ABB's factories using innovative technology and digitalisation. Introducing the concept in Sweden as well is the next step.
– When it comes to making industries and buildings energy efficient, ABB has the products. We live as we learn. As we are demonstrating through our Mission to Zero initiative. A shining example of what digital energy management can do is the factory in Dalmine. We don't need to set up new factories to achieve climate neutrality. The plant was built in 1979 and today it is powered by 100% renewable energy. Through our ABB Ability™ Energy and Asset Manager cloud solution, we monitor the plant's electricity consumption with connected energy meters and other tools. With the overview this gives us, the factory can easily find out the energy consumption in real time and thus see where we can save energy, says Sara Narbrink, Product Marketing Specialist at ABB.
It is clear that ABB's investment has paid off. In just two years, the Dalmine plant has reduced its CO2 emissions by 2,200 tonnes. The transition to a carbon-neutral production facility has also been made at ABB's Lüdenscheid plant.
– We improve energy efficiency by using intelligent systems in our plants. We can save resources, reduce emissions and plan energy use by measuring and comparing different parameters and getting decision support. In the Lüdenscheid plant, we optimise consumption, production control and energy storage through OPTIMAX® from ABB's ABB Ability™ energy management package, Lennart says.
– By 2030, we want to be climate neutral in our own operations. And thanks to our energy management offering, we can also help our customers reach that goal. The whole of Swedish industry is going through a very big transition right now and to maintain our strong competitiveness we need to work together. This is where ABB wants to help, Sara concludes.
On 18-20 October, ABB will be at Scanautomatic. They will be bringing news and products from ABB's entire offering and business areas from Robotics to Process Automation, Electrification and Motion. You will also see the energy management solutions used in the Dalmine factory, how it looks on the platform and how it connects with the other systems.