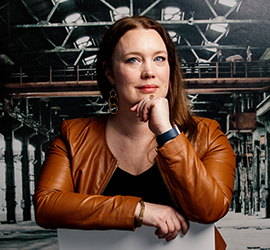 On 19 October at 14.15, Ignite will take the stage at Scanautomatic, together with four industrial startups. They will focus on HOW to best enable and implement innovative solutions and collaborations in their business.
– We have a very exciting startup scene in Sweden. These are innovators who have really sharp solutions for industrial automation and digitalisation. Meeting companies like the ones we're bringing to Scanautomatic is a way to gain access to brand new cutting-edge solutions at an early stage. Something that can give industrial companies great competitive advantages, says Stina Lantz, Vice President SISP & Program Manager, Ignite.
Ignite will be joined on stage by four startup companies:
Sally R
Sally R uses technology taken from outer space to develop a solution that improves air quality and saves energy.
Elonroad
Elonroad is developing a holistic vehicle-charging solution that can be used both while the vehicle is running and while it is parked.
Stream Analyze
Stream Analyze has developed an AI platform designed for advanced devices, such as microcontrollers.
IPercept
IPercept is also an AI company that has developed services for the maintenance and operational improvement of complex systems.
– All these innovative companies have solutions that are extremely useful in industry. On stage, we'll also explain how to work and collaborate with innovation companies and will go through concrete examples to show what the solutions can help with, Stina says.
Live podcast with Ny Teknik – this year's 33-list
After Ignite, Ny Teknik (New Technology) will deliver a live podcast on stage, focusing on this year's 33-list. In fact, three of the four industry startups that Ignite is bringing to the stage have been on the list before. The 33-list was launched in 2008 by Ny Teknik and every year they have a rigorous process where they select Sweden's 33 most promising and innovative startups.
To be on the list, the company must be Swedish, no more than seven years old and the business must be based on a proprietary technological innovation. In addition, the business idea must have international potential.
– Our aim with the list is to highlight innovations that change and improve Swedish business and society and simplify everyday life. To put it simply, they are tomorrow's technology stars, according to Per Danielson, Editor-in-Chief of Ny Teknik.
On stage, Ny Teknik's startup experts will be quizzed on the work behind this year's list and what technology trends are revealed among the 33 winners. Per Danielson will ask questions and Anders Thoresson, chair of the 33-list, together with Simon Campanello, tech reporter, will give the answers.
– We hope that the audience leaves the session with a sense of joy and inspiration that there are so many interesting startups with a great potential to make a difference in important areas. A difference for us as citizens and society, but also a difference for everyone working in larger and established companies that can develop thanks to innovations born within the Swedish startup family, Per says.
The 33-list will be presented on nyteknik.se and in Ny Teknik's paper edition appearing on 20 October. At Scanautomatic, visitors will get a glimpse of who is on this year's list. Visitors may even get the whole list before everyone else.